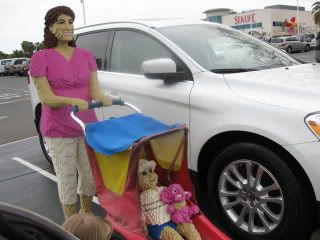 1. Trust your instincts
People may express surprise, maybe even a little concern, that you've planned a multi-day visit to Legoland. No Disneyland? No Wild Animal Park? More than one day at Legoland? Really? What
else
are you going to do on your trip? I was a little concerned myself. But as we were walking up to the gate and The Boy pumped his fists in the air yelling "LEGOLAND!" with joyful abandon, I had a feeling we made the right choice.
He's been planning this trip since he found an old Legoland map three years ago. Love at first sight. He studied that map with intent focus, memorized the attractions, and planned which ones he'd like to visit. We'd watch other people's Legoland home movies on YouTube. When the map fell apart, I actually called Legoland and bought a souvenir book over the phone from their gift shop. And as The Boy got older and his fascination with Legos increased, so did the Legoland dream. Mickey Mouse, nothing. Just show him the way to the giant Bionicle.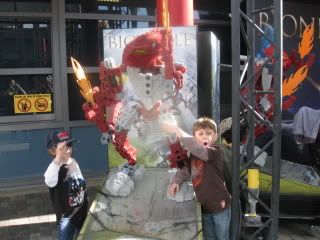 2. Don't think out loud
Kids hear
every
word you say. That's hard to remember when you typically say "Put on your shoes" about 17 times before they even move in the general direction of their shoes. But the little monkeys are a lot more tuned in than we think. Any detail that would have even slightly affected their Legoland fun was seized upon the minute it was uttered out loud.
"I hope there's not a lot of traffic. . ."
"TRAFFIC! There's going to be
traffic
?! Will we
ever
get there?!"
And don't even think about acknowledging the "No Refunds If We Close The Park Due To Rain" disclaimer card they hand you in the parking lot. Just slip it in your pocket and, you know, silently hope it doesn't rain.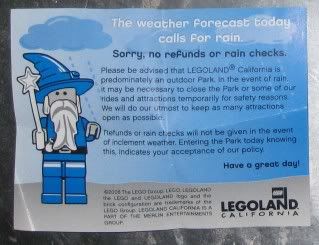 3. Bring the whole damn family
What's more fun than a 5-year-old and a 3-year-old at Legoland?
Two
5-year-olds and 3-year-olds at Legoland! We did the first day by ourselves, but the whole mood changed from fun to Best Vacation Ever when the cousins showed up.
4. Kids can't lie
I know, I know. We should have learned this lesson when
Balloon Boy
spilled the beans on CNN last fall. But that was different. That was a huge lie, and one that didn't directly benefit the child.
But lying about your age when you're only
days away
from turning six so you can go on the 6-and-up ride? You figure they're going to be more motivated, right? The Boy and his cousin couldn't even believe we were going to let them try it. The dads coached them.
"If they ask you how old you are, just say you're six! How old are you going to say?"
"Six!"
And then, they got to the front of the line. "How old are you?" asked the ride operator.
"Five!" shouted the cousin proudly.
"Five and eleven-twelfths!" shouted The Boy, not to be outdone.
And that was the end of that ride. He stopped crying eventually.
5. Three-year-olds and rides don't always mix
Well, I should really just speak for my own three-year-old here. Her cousin loved the rides. But my Little Girl didn't see the point. She kept trying to climb off and get a closer look at the Lego models. At Junior Driving School, she gave up in frustration and wept on her steering wheel. Waiting in line, she'd decide which color boat/car/plane she wanted, and if she got the wrong one she'd cry her pants off for the first 2/3 of the ride. In the end, we found she was a lot happier just studying the talking Lego models and doing the hands-on active stuff.
One notable exception: The Legoland Express train ride. She and her cousin rode that thing over and over. And over. And it never stopped being cute:
6. Teenagers = adorable
Seriously. You know what's almost as cute at the three-year-olds on that train ride? Teenagers trying to look cool while on vacation with their families. Cheek-pinchingly cute. Maybe I'm just getting old…
7. Bring a bathing suit
Cloudy and chilly in the morning? Bring a bathing suit. Weather report calls for a chance of rain? Bring a bathing suit. Kids have so much planned that you're sure there won't be time for the water attractions? Seriously, just bring a bathing suit.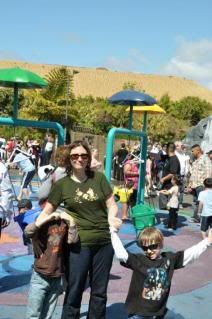 8. "Reasonable" is subjective
There are many different planes of reason. Adults, for example, may think it's reasonable to be happy when someone hands you an ice cream cone. But children know that it's perfectly reasonable to be spectacularly disappointed if said ice cream cone does not match the one they pointed to on the poster. (I have to admit, I'm going to side with the kids on this one. Ice-cream-disappointment tantrums are always,
always
forgivable in my book.)
9. Beware of the gift shop
There is a kind of madness that takes over at the big Legoland gift shop. You think "How bad can it be? I've been to the mall on a Saturday before." But brother, it's bad. The cranky, the dazed, the joyfully anxious are all streaming by each other or blocking the aisles with their strollers. Endless choices assault you from the shelves, prompting the kids to capriciously dart far away from the group. I haven't seen Mr. Black that stressed out since the first time I was in labor.
I tried to go back when the park first opened the next day. Smaller crowds, but only one cashier who was waiting on the Family of Perpetually Changing Minds. Of course, the Lego store at the mall isn't much better. Don't like hectic crowds? That's what the Lego Web site is for.
10. Choose a hotel that offers free breakfast
Preferably one with a Make Your Own Belgian Waffle option. Mmmm-mm! Wafflicious.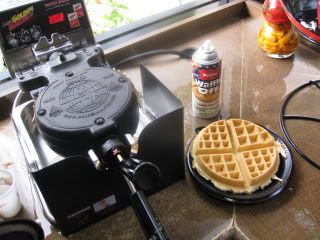 Seriously, Best Vacation Ever. Anyone else have any theme-park tips to share?