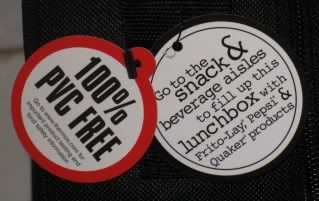 Every rite of passage begins with the ritual of shopping. Heading off to college? You're going to need some dorm room furnishings. New job? New clothes. Getting married? Martha Stewart will tell you what to buy, starting with a subscription to her
Weddings
magazine. Expecting your first baby? Time to take those first tentative steps down the abundant aisles of Babies-R-Us. And if it's any time between Fourth of July and Labor Day . . . well, fellow parents, I don't need to tell you. Back-to-school shopping, people!
Up until now, my kids have only attended preschool. Back-to-school shopping for me usually means grabbing up a basket full of $3.00 doesn't-matter-if-they-spill-paint-all-over-'em shirts from Value Village. But this year, The Boy is about to start kindergarten.
Was kindergarten such a big deal when we were kids? If it was, the adults did a nice job shielding us from it, because I do not remember this level of drama around the ritual. But here we are. I spent much of last year fretting about
which public school
The Boy would attend. Now that we somehow managed to draw a lucky number in the city's school lottery and end up at the Very Special Alternative School, there's buzzing in the grapevine that the VSAS might be closing someday. Or, if it stays open, younger siblings may not be guaranteed a spot. (I have no idea whether there's any truth to these rumors, but I'm doing my best to ignore them. So far.)
Meanwhile, the kids have concerns of their own. We recently attended one of those getting-to-know-you summer playdates at the VSAS playground. While we parents traded tinfoil-hat theories about school closings, the kids were sizing each other up. Who's going to be the new alpha? The second in command? The Boy tried to get in with some bigger, tougher kids at first, but they weren't having it. I had a proud moment when he remarked with disgust "It's a little
crowded
here" and, like Bart in search of his Millhouse, left the power struggle scene to go play with another boy.
I can only hope he'll handle every social challenge as gracefully as that one, but I know he won't. He's only five, after all. There will be mistakes. There will be tears. Maybe even fights. Very Special School or not, it's a jungle out there. Even under the best of circumstances, school is really just a big pit of kids being assholes to each other much of the time. We all know it, we all remember our time in that pit, but most of us send our kids right back into it anyway, swallowing the lumps in our throats and hoping for the best.
And so . . . we shop. What better way to combat fear of the unknown than shopping? Shopping breaks the future down into small, manageable, brightly-colored material units. It gives us a rose-colored glimpse of what the new life might look like. A cart full of shiny new school supplies creates the happy illusion of a wonderful school year ahead. How much easier it is to imagine your child in the school cafeteria when you look at that beloved new
High School Musical
lunchbox. We don't consciously believe it's so simple, of course. But there's a subtle, subconscious reassurance in acquiring the right supplies.
The reassurance is not just in the goods themselves, but in the
process
of acquiring them. In the face of uncertainty, shopping is one clear, definitive action that you can take. You can't be there in math class when your child doesn't know the answer. But damn it, you can buy that slide rule!
Although . . . even the shopping can be a little disheartening. All those movie-and-TV-show-promoting, non-gender-neutral backpacks and lunchboxes. These items can be big signifiers for the kids, but the choices are so limited. If your child's not a fan of current mainstream kid pop culture, you're probably SOL. And even if you do manage to find a backpack that meets your child's more eclectic taste on the Internets or at a yard sale or some such, your child may still turn it down in favor of conformity. "
Transformers
is what the store sells, so
Transformers
is what I'm supposed to like." Marketing is powerful.
My sister tried to persuade her son to choose this beautiful Crocodile Creek lunchbox. The kid's loved outer space since he knew how to say the words. Seemed like a perfect choice: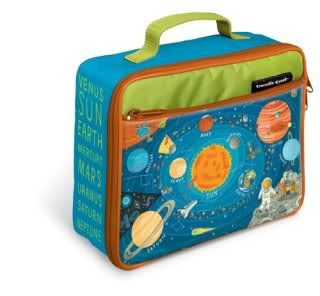 But no. He had his heart set on a Spiderman lunchbox from Target instead. Which is fine, of course, but why the big hurry to eschew whimsically cute planets for tough-guy superheroes? I mean, come on dude. You're
five
.
Which, I suppose, is what's really at the heart of our back-to-school melancholy. With each new year there's a little more unraveling of the childhood, moving them further away from the innocent little dumplings they once were into a world of
Clone Wars
and
Hannah Montana
. Each year, peer influence is just a tiny bit stronger. Each year, they test the boundaries a little more, striving toward independence, determined to make their own mistakes. And make mistakes they shall, despite our best efforts. Mistakes are an important part of the process.
So what do we do? We buy them some pencils and some new shoes, give them a hug, and send them on their way. And hope for the best.