"We're all gonna have so much f**king fun we'll need plastic surgery to remove our g*damn smiles." – Clark Griswold
Earlier this summer, my sister took this photo of our nephew enjoying a visit to the National Arboretum: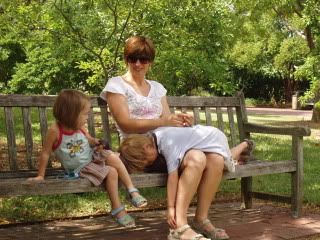 One of her co-workers saw the picture and paused to reflect. "That's my kids on
every
trip we ever took them on," he said, kind of reliving it a little. "And now I just say to myself:
Why
? Why did we do it?"
Why, indeed. That's a tough one. Especially if you're a parent who loves traveling – maybe even a little tourism here and there – but hates the notion of being that dreaded cultural icon the Family of Tourists.
There are plenty of cautionary tales out there. Not just
National Lampoon's Vacation
, but real life ones, too. There's a little Clark Griswold in all of us, after all. From teenhood on, I remember observing these families in action and mentally vowing never to become one:
– The little girl weeping exhaustedly as her family slogged through historic Williamsburg in the blistering summer humidity, finally grasping her breath long enough to wail one cohesive sentence: "I'm
booored
!"
– The boy with his arm stuck in the revolving door of a Manhattan hotel, trying to avoid further embarrassment by requesting help in a flat, stoic voice: "Dad. Dad." Meanwhile, his oblivious dad was right behind him pushing harder on the stuck door, wondering why the damn thing wouldn't move.
– The dad in Acadia National Park, pushing his family along on a hike that was clearly too challenging. They charged past us early on the trail, kids whining under dad's brisk commands. We passed them further up the mountain where each child – mom too – was stranded at various points of the hillside, clinging to rungs the park had installed to help hikers up the more vertical parts of the trail.
We see these things, shake our heads sadly and think "Not
us
" with some misguided sense of pride. But how can you love travel, have kids, and somehow have that
not
be you? Take a car load of multi-age relations on the road and some version of those mishaps is going to happen. It's practically guaranteed. (Did you read
Hausfrau's
posts about her hilarious
family vacation misadventures
?)
As for me, I'm patching myself back together after a week-long Oregon coast trip with a 5-year-old who's developed a case of sass-mouth and a 2-year-old who's decided she hates the beach's ass. "It too breezy," she claims. And Jeebus help you if any sand touches any part of that child's body. Sand is no friend of hers: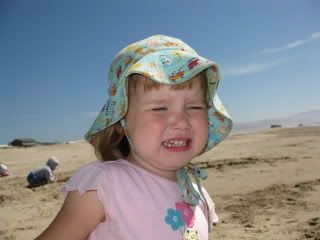 Somebody hand me a fanny pack, because I feel like I'm turning into one of those Griswold dads. And I'm echoing my sister's co-worker's question:
Why
are we doing this?
I'm also wondering why so much of the tourism industry is aimed at families when it's debatable whether kids even
like
to travel? Sure, they get a kick out of seeing new things and riding in different vehicles. They love the beach. (Well. Some of them do.) They enjoy seeing things first hand that they've learned about in books. (Well. Some of them do.)
But the process of travel is so exhausting. Even older kids can take routine disruption pretty hard. They're so easily bored, so easily upset, so easily embarrassed. And kids have completely different notions of "fun" than adults do. We get exasperated when they're unwilling to part with comforts from home like favorite TV shows, or when they eschew the main tourist attraction in favor of the motel pool. But there it is. Their idea of fun is not necessarily our idea of fun. If it were, there'd be no such thing as
Barney
.
Of course, the tourism industry realizes this and has adapted. There are resorts offering all kinds of delicious child-friendly amenities – craft tables, dolphin encounters, pools with elaborate water slides, even drop-off day camp. As a parent who tends toward the "enjoying nature" brand of vacation, I get the sense that I'm supposed to disdain such things. (Who needs water slides when you've got a gorgeous beach ten steps away?) But after a week of dragging little Bart & Lisa from fog-drenched Oregon beach to fog-drenched Oregon beach, my knee-jerk dismissal of all-inclusive resorts has become slightly reluctant.
Maybe the resorts are a little cheesy and over-indulgent, but the idea is a good one. Meet kids at their level of enjoyment and give the parents a little bit of a break to enjoy their vacation too. Nothing wrong with that. Well . . . the price may be a little prohibitive, but maybe we can start with the basic concept and come up with a budget version.
"Meeting kids at their level of enjoyment" doesn't have to mean expensive resort amenities. It can be as simple as letting your toddler push every button the national park's interpretive center has to offer. Or kicking back in the motel room with bed-jumping and mini boxes of cereal. Hikes don't have to be epic. Nature can be appreciated just as easily from a picnic table. (Preferably with ice cream.) And if your planned activity isn't working, there's no shame in bailing out and driving to the nearest arcade for a few rounds of skee ball.
Now, for that "give parents a little bit of a break" business. One obvious suggestion is to take vacations with extended family. Cousins can be built-in playdates; grandparents can be built-in babysitters. With bigger groups of people, it's easier to split into groups according to interests. Maybe there's an aunt who'd love to stay at the motel pool with the young'uns while the more adventurous bunch sets off on a hike. (Or maybe that's just cloud talk. Extended family vacations can pose countless challenges of their own!)
But let's get back to the original question: Why are we doing this?
Strange as it seems, I think we're really doing it for
ourselves
. Maybe we're nostalgic for the family vacations of our childhood. Maybe we're trying to achieve some blurry ideal of family travel we dreamed about as kids – part Kerouac, part "Wonderful World of Disney." Maybe we just plain like to travel and a family vacation is as good an excuse as any. Whatever the reason, we're the ones hitting the roads with a bumbling sense of optimism and a carload of quirky characters. Might as well enjoy the ride.