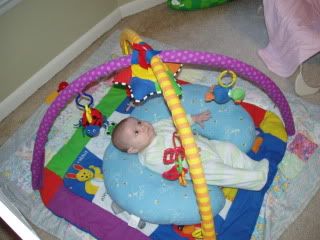 In my shopping-for-baby days, I used to raise some serious eyebrow at the whole
Baby Einstein
operation. Einstein? Really? Toys, books, and videos are going to transform our babies into Einstein? Would we even
want
that? The whole idea was as absurd to my then-childfree self as a cup holder on a stroller or a
Moby Wrap
(both of which I now love dearly, of course).
I warmed up to Baby Einstein, too, after receiving a "Baby Mozart" DVD for a present. It was gentle and apparently very entertaining to the little guy in small doses. When he was a toddler, I bought him "Baby Neptune" and found it very useful during the weaning process. He'd wake up from his nap and cuddle with me, sipping a yogurt drink instead of nursing as we watched tropical fish and splashing orca whales on the screen. Good stuff. And yet . . . educational? Einstein? I still didn't see it. And even though I've gotten used to the name, I'm still not fond of its implications.
It's not the products themselves that are troubling. It's this larger notion of "educational" materials for babies and toddlers in the first place. Why is that necessary? Is an interactive Baby Einstein "educational" toy with lights and music really going to give Baby A an advantage over Baby B, who's just got a set of plastic keys and her own toes? Isn't
everything
educational to a baby?
Research tells us that a child's brain develops at an incredible rate during ages 0-3, and marketers have turned that information into an opportunity to sell us any and all "educational" products to make the most of that window. Cram in all the math and Mozart that amazing little brain can hold! But I wonder if it's really the quality of the content that makes a baby "smarter," or if it's a loving and engaged parent that makes the difference, whether the baby's hearing Mozart or "Little White Duck" or an
old Coca-Cola jingle
.
It's my understanding that the developing brain is less like a blank canvas and more like a net. When we read to our babies, sing to them, or hold up flashcards, all that information won't necessarily sit there intact awaiting the perfect moment to dazzle teachers and relatives. Rather, we're helping them build a stronger net; a tighter, quicker net to catch all manner of facts and concepts as they grow older. It's more about process than content. (At least that's my layperson's understanding. You child development specialists out there in Internetland please feel free to jump in and clarify.)
Whether there's a significant difference between content or not, it's curious to me why a culture that's often so proudly and willfully ignorant would care whether their babies are smarter than other babies. Remember when George W. Bush praised Baby Einstein founder Julie Aigner-Clark in his
2007 State of the Union address
? Ah, sweet nourishing irony. A preschooler uses a big word: he's a genius! A presidential candidate uses a big word: he's an elitist, out of touch with "real" Americans! At what age does intelligence lose its bragging rights, anyway?
But here we are. Seems to me that education often
is
about bragging rights and competition. And marketers know that, too. Those of you who indulge in a little screen time have probably seen those
Noggin
commercials – the ones in which proud-parent voiceovers gush about the amazing things their children have learned while clips from the shows are featured, illustrating just how Noggin's quality preschooler programming teaches our little darlings to identify shapes or butterfly species. One squealy-mom-voice even proclaims "She wants an accordion for her birthday! An
accordion
!" (Baby
Linnell
, anyone?)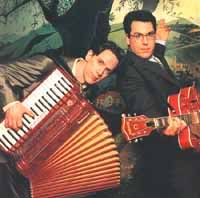 I'm not anti-TV by any means. I love quality preschooler programming as much as the next parent who spends every minute of every workday with her small children. Nine straight hours is a
lot
of book-reading, block-building, and trips to the park. An hour of Noggin or PBS here and there helps keep me relatively sane. My own little Baby Mulder and Baby Scully are watching it right now.
There's no doubt that kids' television has come a long way, and I appreciate its efforts to be non-violent, multicultural, pro-recycling, and as educational as a talking glow box with product placements can be. In moderation, I feel pretty confident that it's doing no real harm to my kids. But it's not making them any smarter, nor should I expect it to. Sure, they might pick up the odd fact or concept or vocabulary word. But they pick that stuff up from everywhere. They're already smart.
All
children are already smart. They have these wildly developing brains and a tremendous capacity for learning. Let's not kid ourselves into thinking that we need to consume more products to help that process along.